Hyundai Ownership
Technology


Bluetooth Connectivity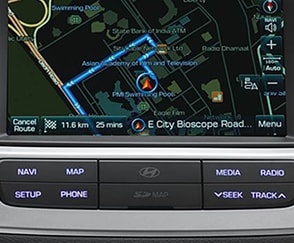 USB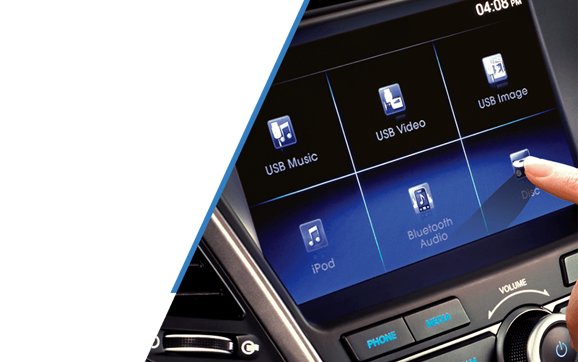 Know Your Hyundai - Hyundai SYNC
One of the most used and convenient features found in almost every new or used car is Bluetooth. Bluetooth technology allows drivers and passengers to efficiently and safely stay connected to their contacts or play their preferred music while out on the go. However, before you can start using this feature, you will need to know Hyundai's available Sync methods and how to connect your iPhone or Andriod device to your Hyundai.
There are several ways to connect your smart device to your new or used Hyundai. Below you can find simple instructions on how to sync your compatible phone and explanations of each SYNC method available for your Hyundai. If you require additional information or support, contact us.
Hyundai SYNC Instructions
Sync Your iPhone to Hyundai Bluetooth
Press the Phone Button located below your vehicle's infotainment screen.
Be sure Bluetooth is permitted on your iPhone.
Select the device name that matches what is on your phone's Bluetooth screen and.
When prompted, ensure the 6-digit code on your phone is the same as the Passkey displayed on your vehicle's screen.
Select Pair on your phone.
Select Yes if you would like that device to be the default phone in the vehicle.
Sync Your Android to Hyundai Bluetooth
Follow steps 1 to 2 above.
Once Bluetooth is enabled on your phone, you should receive a notification allowing you to pair your phone to your Hyundai Bluetooth. Select the name of the device that matches the Vehicle Name displayed on your vehicle's screen.
Confirm the 6-digit Passkey on your phone matches the one on the vehicle screen, and press OK.
Select Yes or No if you would like that device to be the default phone in the vehicle.

Hyundai SYNC Methods
Bluetooth
Hyundai's Bluetooth wireless technology system allows for hands-free use of your mobile device. Performance and compatibility may differ based on your phone and software version. Hyundai has tested itemized compatible devices found on the Hyundai Canada website or your Owner's Manual.
Android Auto
Android Auto, developed by Google, allows an Android device running the Android Auto app to bring a personalized user interface when used in a vehicle, most frequently by having it connected to an Android Auto-enabled head unit in the car. To use Android Auto, you need an Android Auto compatible car and an Android phone running 5.0 or higher.
USB
USB is one of the most common connections used to link your phone to an audio system. Hyundai's USB technology system gives you the ability to play music in audio devices equipped vehicles. Load your USB memory stick with your favourite playlist, plug it into the Hyundai's USB enabled sound system, and groove while on the move.
Hyundai iblue
Experience Hyundai's next-generation Infotainment system with "Hyundai iblue" Smart remote application. This system centers on providing a primary user interface for your smartphone. The app links to your Infotainment system via Bluetooth to make every journey more relaxed and rewarding for all occupants.
CarPlay
CarPlay delivers capabilities to iPhone users that will help them be instantly familiar and comfortable inside their Hyundai car. CarPlay lets drivers make calls, get directions optimized for traffic conditions, access messages, and listen to music. In conjunction with CarPlay, Siri provides drivers with an eyes-free experience by responding to requests through voice commands that are directly accessed through the steering wheel's voice button.
Blue Link
BlueLink is a dynamic, telematics technology that lets Hyundai vehicles send and receive relevant and useful information. The system uses an enhanced cellular network, with automatic roaming, that enhances connections and arranges emergency requests. In your vehicle, Blue Link uses voice-response technology, with the addition of GPS and a live assistance team for selected needs.
MirrorLink
MirrorLink is a device that offers integration between a smartphone and a car's infotainment system. It alters smartphones into vehicle application platforms where apps are run on the smartphone. At the same time, drivers and passengers communicate with them through the dashboard buttons, steering wheel controls, and touch screens of their car's In-Vehicle Infotainment (IVI) system.
Questions about Hyundai SYNC?