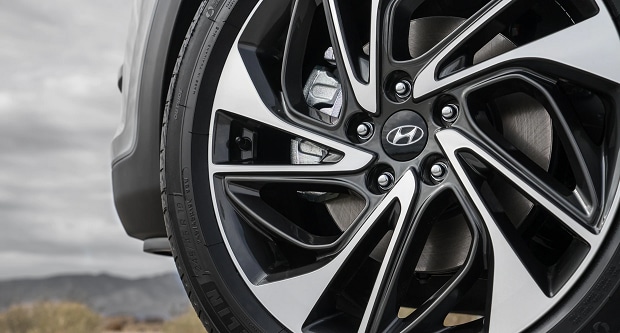 Maple Hyundai Tire Centre
Whether you need new tires or just a vehicle facelift, Maple Hyundai Tire and Wheel Centre is the place to be! Tires and wheels are among the most neglected component of any vehicle on the road. As drivers, we take for granted the importance and safety implications associated with well maintained and structurally sound wheel and rims.
Why are Tires and Wheels Important?
Besides the obvious advantage of increasing your Hyundai's already stunning good looks, tires and rims are important for many safety reasons. The tire thread and appropriately sized rims that are outfitted to your vehicle determines your ability to grip the road, turn with the agility and ease you require, and be able to come to a complete and full stop when you need to most. Without good tires and the right sized rims, you will have less control behind the wheel which can place you and others on the road in harm's way.
On your next scheduled service appointment have our qualified technicians check the condition of your tires and wheels. If any component of the tire or wheel falls below the standard, our technicians will let you know and provide you with information to have your vehicle operating in peak condition in no time. Our technicians are qualified to remove your old tire off the wheel and install new tires and rims.
Contact Maple Hyundai Tire and Wheel Centre
Contact Maple Hyundai Tire and Wheel Centre today for more information on the many services we offer. Alternatively, you can access our services online and find the right winter or summer tires for your vehicle. You can order your new tires and wheels individually or as a package. And don't forget to browse our site for ongoing specials in our Parts and Service Department!
Hours
Monday

9:00 AM - 8:00 PM

Tuesday

9:00 AM - 8:00 PM

Wednesday

9:00 AM - 8:00 PM

Thursday

9:00 AM - 8:00 PM

Friday

9:00 AM - 6:00 PM

Saturday

9:00 AM - 6:00 PM

Sunday

Closed